This site is a contribution of the Cuban National Library "José Martí"
to  the Cuba Music Week, May 14-22, 2016, organized by ArcMusic. It presents an online virtual version of the former card printed catalogs of the Cuban collection including the catalogue of cuban records of the music collection of this institution.
You can navigate across the virtual drawers of the original catalogues. This catalog is a CIPAC (Card Images Public Access Catalog) that until today remained for local access. Thanks to it transformation to a digital version it is now available online as a beta test. It includes authors and titles of the records that conform the collection.
This are digital images of the original Card Catalog. They have been digitized and incorporated to a CIPAC in a way that can be consulted online. Every image is processed to obtain the text using Optical Character Recognition software (OCR) and the text review is made with crowsoursing. The text of every record is indexed to permit searching using keywords in the full texts of the records.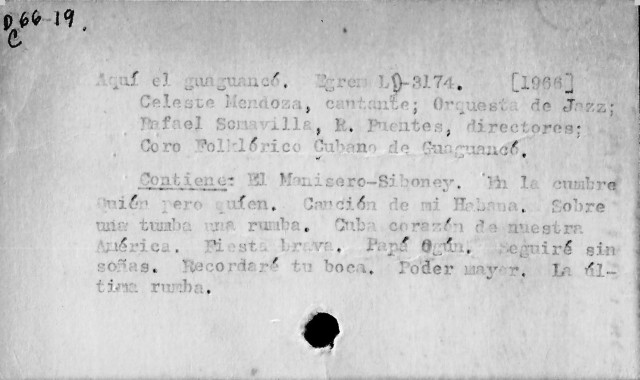 Considering the size and richness of the collection and the metadata included in the cards it becomes an important reference tool to research the Cuban musical production, its authors, composers, singers and performers across many years.
Although this is a process not yet concluded, the transformation of the original printed card catalogues into a data base, begins to offer  this product that becomes useful considering that you can search the full text of all the records and see the original cards. Considering that the OCR is not full accurate, the crowsoursing and quality control will improve the resource progressively.  That transformation of the original cards into a data base will be represented as linked data to become part of the open linked data space of the semantic web.